Porsche Boxster hire
(0 offers)
The Porsche Boxster is equipped with a six-cylinder engine and accelerates in 5.6 seconds from naught to sixty. The Boxster holds lot of room and has luggage compartments in the rear and front which bring extra comfort without losing its sportiness. The convertible top of the Porsche Boxster Typ 987 can be operated electronically up to a speed of 31 mph. The boxster S outspeeds the Boxster.
Back to the category view: Porsche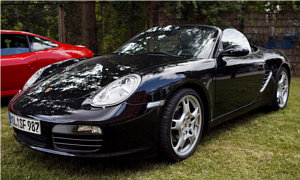 Oops, We couldn't find what you're looking for.
Porsche hire throughout the UK
The Porsche Boxster is your passion? Then you have come to the right place. erento is the world's biggest and fastest-growing online rental marketplace. At erento you can hire a Porsche Boxster and find other extraordinary sports cars. Enjoy speeds up to 162 mph and savor the wind around you in a convertible. It is a must for every Boxster fan! You can easily hire a Boxster at erento.com to attractive prices.
Back to the top